American Corners are Partnerships between the U.S. Embassy and host institutions, providing current information about the United States with books, Videos, internet and programs. With American Libraries and American Corners throughout India, you are never far from current information on American politics, culture, history and economy as well as international relations and global issues. Out libraries are open to the public for reference, research or just exploring the collections.



American Corner
Office No. 1 & 2, 3rd Floor,
Sun Square, Nr. Hotel Nest,
Off C G Road, Navarangpura,
Ahmedabad - 380 009.
Tel:- 079 26400899 (Mobile) +91 9909025145
Email:- Americancorner@iaesgujarat.org
Website:- www.iaesgujarat.org
Skype ID: tejal.iaes

Follow Us on Facebook

Working Hours
10.30 a.m. to 6.00 p.m.,
Monday through Saturday
The American Corner provides a window into life and culture in the United States. It is the first place to visit for accurate and up-to-date information about political, economic, cultural, educational, and social trends in the United States.
The American Corner in Ahmedabad is a partnership between the Public Affairs Section (PAS) of the U.S. Consulate General, Mumbai and the Indo American Education Society, Ahmedabad. The American Corner is open to students, researchers, academics, business, media and legal professionals, children and the general public. It is also a space for conducting programs and dynamic conversation on topics of interest to the Ahmedabad community.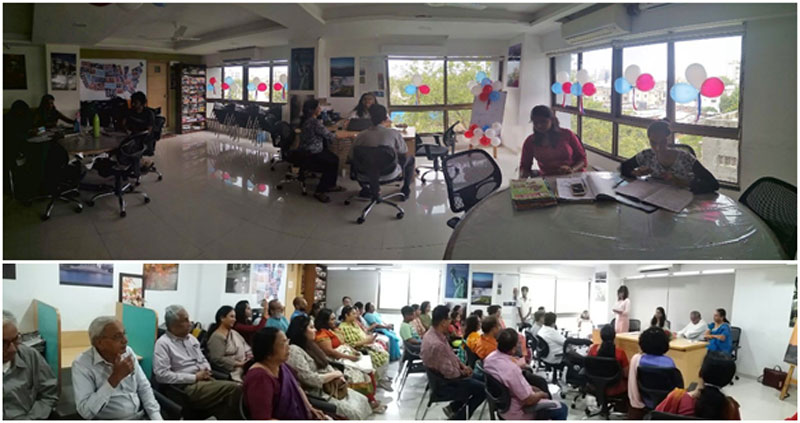 Resources
Books and Magazines
Resources for Children/Young Adults
English Language Learning Materials
EducationUSA www.educationusa.info materials
Films and Documentaries


Services
Reference
Computers, Internet and Wi-Fi
Photocopying
Group/Individual Orientations & Facilities
Invitations to Special Programs and Events

The Resources section provides information on
International Exchange Alumni
Grants Program
Auctions And Contract Solicitations
U.S. Research and Resources
Digital Media Archives